Description
Free Upgrade

to T-Motor FPV Series F60 Pro IV 2550kv brushless motors, T-Motor F45A 32bit ESC and RunCam Split 4 HD FPV Camera
Combining a

FPV Cam

and

Action Cam together!

Meet the stretched arms Loki-S REC series w/ RunCam Split 4 Camera
Storm Loki-S5

REC

T-Motor Spec

The Loki-S REC is a stretched arms FPV airframe focused on serious freestyle or professional racing, Storm put the most high-end, race spec components
on the Loki-S5 REC racing drone and built a well assembled, expert-tuned racing machine ready for any top level competition and any aggressive flying.
Loki-S5 REC features :
Stretched Arms™ design on FPV racing frame -

It corners like it's on rails!!

Excellent handling, extremely agile,

faster roll

and

more stable pitch

Full 3K Carbon Fiber "Unibody" airframe featuring a

solid 4mm main plate

and

2mm top plate

Loaded with a massive power-plant (F60 IV motor) and weight

369 g

only, and remember, the weight

includes a 4K HD recorder!

Motor to motor 241mm, very compact size for

5" to 5.5" Propellers

Thanks to the powerful propulsion system, the Loki-S5 REC handles like a dream,

extremely fast acceleration and cornering

7075 Aluminum

screws included,

50% lighter

than steel and iron screws
"Bumpers" on the end of the arms to protect the motor during a crash
Upgraded to

F4 generation FC

, it's like a having a faster CPU, more calculation means smoother control

T-Motor F 45A 32bit 3-6S ESC BLHeli_32 w/ Dshot

gives you silky smooth motor control

T-Motor FPV Series F60 Pro IV 2550kv brushless motor

and

Gemfan FLASH 5152 props

for propulsion, prepare for rocket fast experience

TBS Triumph 5.8Ghz FPV Antenna

to improve video quality
OSD has battery current and drainage display, you can see how many "Amps" and "mah" has drawn in flight
Extra grip in corners
The LokiS-S5 REC has the signature stretched arms, we've done a lot of testing and it shows better acceleration and razor-sharp cornering like it's on rail.
Breakthrough in FPV Cam
This is something we've been long waiting for,
combing a 4K recorder into a FPV camera 2-in-1
, to capture everything in HD while you fly, without the heavy action camera on board to mess up the performance and C.G., expect to see more stunning video with the lighter and faster Loki-REC series.
367g only, including HD Recorder!
This is amazingly lightweight for 5" FPV race drone with massive motors, and remember it has a "GoPro" onboard, working with the monstrous Storm + T-Motor power system, it's definitely a great choice for every FPV player.
Compact to the max
Everything you need for a FPV race drone, all packed on the Loki-X REC series.
Monstrous Power System - 3S or 4S Ready!
Compatible with 3S or 4S LiPo, it's a direct swap with no settings required. You can have different flight performance according to your needs.
Don't have time to build one?
We build it for you!
We have years of experience in this field and learned a lot of know-how on how to build a good FPV racer, we care about details and expect nothing less from our RTF or BNF aircraft, we also provide different spec built for different experience, each drone is built and tested by Storm factory guys to ensure you'll get a truly world class, out-of-box ready to fly FPV racer. Preloaded with Storm tuned 3 Flight mode + 3 Speed mode, everyone can enjoy, from beginners to experts.

Using rubber dampers for the FC to minimize the vibration, very important for F4 generation FC
No compromise!
The Loki-S5 REC has the most high-end components on-board, this is surely one of the finest FPV race drone you can get today.
Loki-S5 REC Components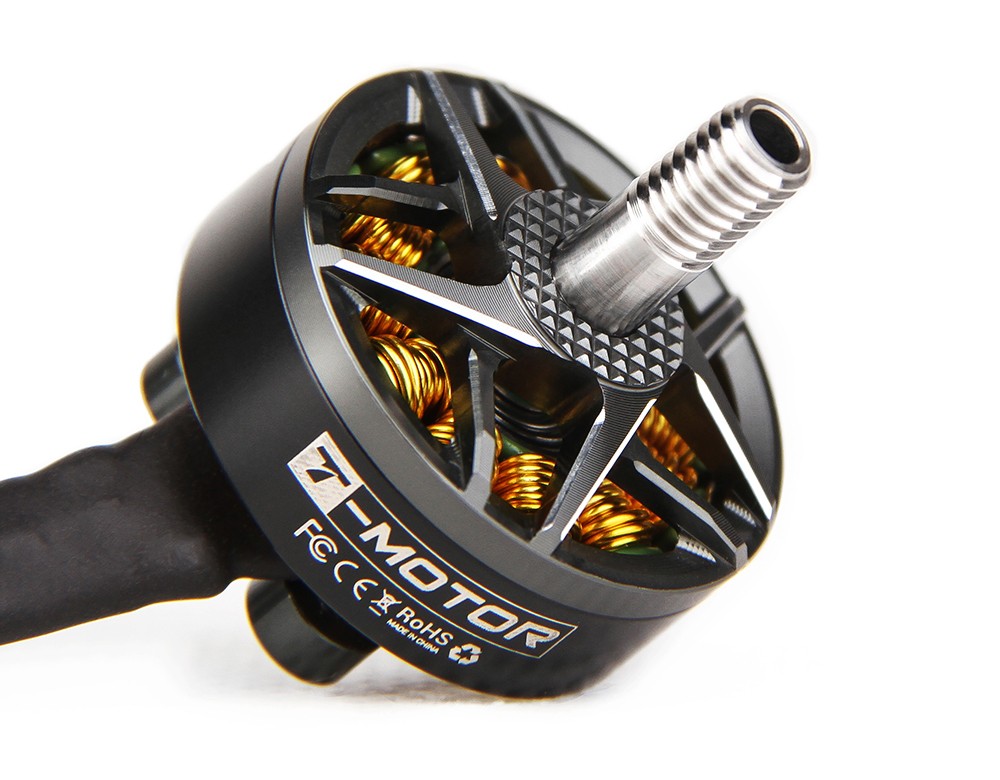 High quality components, expert nothing less from Strom Racing Drones
Storm Loki-S5 REC Specifications :
All-up-weight : 367 g
Dimension : 241mm (L) x 165mm (W) x 45mm (H) (w/o battery)
Motor to motor : 241mm
Battery : (* sold separately)
RC transmitter : optional
RC receiver : optional
This package includes :
1. ☑ Fully Assembled Loki-S5 REC
2. ☑ 6pcs CW GemFan FLASH 5152-3 PC Propeller 
3. ☑ 6pcs CCW GemFan FLASH 5152-3 PC Propeller
4. ☑ Battery mat
5. ☑ Storm lipo strap
6. ☑ Storm neoprene landing pads
7. ☑ 3-in-1 Multi-nut Wrench (10mm / 8mm / 5.5mm)
8. ☑ 3D printout jello killer camera mount
9. ☑
FREE
1x 8GB Micro SD Card for HD recording (Class 10)
* RC Transmitter sold separately
* Battery sold separately
* Charger sold separately

Useful Information :
Payment & Security
Your payment information is processed securely. We do not store credit card details nor have access to your credit card information.