Description
Recording breaking micro size

1.6"

FPV race drone with

HD Recording

and

FPV Camera

onboard!
Storm H16

REC

Storm Spec w/ RunCam Split 4 Camera

Technically it's an "I" beam frame but let's call it "H" frame anyway. =)
Our 2" FPV drone - Storm H2 performs so great indoor, why stop there? Let's try the
1.6"
props! This is
THE
ultimate small FPV drone equipped with the same
RunCam Split 4 HD recording camera
on the Storm H sereis, if you want to perform the stuns like flying thru the house or really tight space, the Storm H16 is the one to go.
The
Storm H16
is made for everyone, you can fly them indoor or in the park without causing too much stress (and to those who is watching you fly), it's so lightweight that it won't suffer lots of damage in a crash and you don't need UAS registration to fly them
(* under 250g drone, no need UAS registration)
, also they run on smaller LiPo which cause less than a big LiPo on the 5" drones.
Designed for the smaller FPV electronics on the market and
compatible with RunCam Split 4 HD recording camera
, frame weights an amazing
13.5g
only,
84.3g
with electronics
(* under 250g drone, no need UAS registration)
, and already has a
HD 4K recorder on board,
this is a stunning figure for a 1.6" drones with
built-in 4K HD recorder
. The main plate is
2mm carbon fiber unibody design,
6mm arms provide maximum durability without too much wind drag, the Storm H16 is like the humming bird for FPV lovers.
Storm put the most high-end, race spec components
on the H16, well built and assembled, expert-tuned racing machine ready for any top level competition and any aggressive flying,
1.6" drone fits right in your palm
, you can fly it in your house or stadium, no matter you are a causal FPV player or the really aggressive FPV addicts, the H16 is right for you. We even put
plastic propellers guard

(* cut 1.9" prop guard)
on the drone so that everyone can enjoy it without worrying the damage.
Built-in

4K HD Recorder

on-board!
Inspired by the successful
RunCam Split 2 (22mm)
recording camera, now they have the smaller version -
RunCam Split 4 (14mm)
, it's a FPV camera that split signal to a recording module (square shape, stacked on the FC), capable of recording
4K 30fps / 2.7K 60fps HD video
into a Micro SD Card. By using the RunCam Split 4, you don't need to put that heavy and expensive action cam (e.g. GoPro) on your drone no more, less weight, less risk, and you'll have absolutely beautiful video footage the moment you connect drone's battery, this is a great news for every FPV players.

No Compromise - loaded with the most hi-end performance parts
Expect nothing less from Storm Racing Drones, preloaded with the
exclusive
Storm Expert-tuned BetaFlight parameters
on the F7 FC, you can enjoy the same exciting FPV experience like the 5" flag-ship race quad - Loki-X5. Installed with the same grade components you can find on the big drone, such as
F7 Flight Controller
,
T-Motor F1103-8000kv brushless motor
,
4-in-1 BL_S ESC
,
RunCam Split 4 HD recording camera
,
200mw VTX
,
warning buzzer
and
LED light
which makes it perfect for both LOS (Line of Sight) and FPV (First Person View) players, very easy to control, sharp and precise handling. We fly it around the warehouse (with speed!), going thru tight space and explore new places, the camera works great in low light, we keep on flying it without crashing, go anywhere, fly anywhere, it's truly a unique and addictive FPV racer for everyone (especially for beginners).
H16 frame features :
Smallest FPV frame (1.6")

to use with

RunCam Split 4 HD Recording Camera

Super light setup,

frame weights 13.5g only,

84.3g with electronics on-board (without battery)

(* under 250g drone, no need UAS registration)

2mm carbon fiber unibody frame + 1mm carbon fiber top plate

makes it very durable
Excellent handling, very agile and smooth control
Support 1103~1106 motor mounting
Fly with

3S LiPo
Breakthrough in FPV Cam
This is something we've been long waiting for,
combing a 4K/1080p recorder into a FPV camera 2-in-1
, to capture everything in HD while you fly, without the heavy action camera on board to mess up the performance and C.G.
4K recorder on a 1.6" drone
The Storm H16 the smallest 1.6"
 frame to use with RunCam Split 4
, now you can navigate this little bee thru tight space while shooting HD 4K video.
Plastic Propeller Guard
With them you get less stress flying the H16, without the worry of breaking the drone or hurting anyone, when you crash it just pick it up, flip it over and fly again! For experts, you can remove them and save 13.5g, and that will take the drone to another level on handling.
Lightweight is very important!
Less weight means less damage in a crash, flies longer and better handling, all-up-weight (without battery) is just 84.3g.
Carbon fiber unibody frame
2mm thick carbon fiber is super strong, especially for this light aircraft., compatible with
RunCam Split HD Recording Camera (30x30 mounting hole).
Designed by players for players
Clean and tidy H-shape design with lots of good ideas from the proven Loki-X REC series, frame is compatible with RunCam Split, protection for Lens module, motor bumper, bottom plate and upper plate battery mounting, low center of gravity etc.
Fly with 3S LiPo
We tried a lot of motors with different RPM, this 8000kv has great balance on
both Flight time and Performance.
Don't have time to build one?
We build it for you!
We have years of experience in this field and learned a lot of know-how on how to build a good FPV racer, we care about details and expect nothing less from our RTF or BNF aircraft, we also provide different spec built for different experience, each drone is built and tested by Storm factory guys to ensure you'll get a truly world class, out-of-box ready to fly FPV racer. Preloaded with Storm tuned 3 Flight mode + 3 Speed mode, everyone can enjoy, from beginners to experts.
World class FPV racer, ready to fly!
In a hurry to get into the air? We build it for you.
The Storm H16 REC includes our exclusive BetaFlight Parameters!
Pr-loaded with three flight modes and three speeds.
The
Angle Mode
is auto-leveled making is a no-stress flying experience for the complete beginner or for flight training.
In
Horizon Mode
the drone is no longer limited by angle, allowing you to do flip and roll, auto-leveling directly after performing the trick.
In
Rate Mode
, the drone will fly like an airplane with no auto-leveling or angle limitation, making it great for flying around in large spaces.
These flight modes are completely unique to the H16 REC there is nothing else like it on the market.
No compromise!
The H16 REC has the most high-end components on-board, this is surely one of the finest FPV race drone you can get today.
H16 REC Components
T-Motor F1103 Brushless Motor (8000KV)
RunCam Split 4 FPV Camera + HD Recorder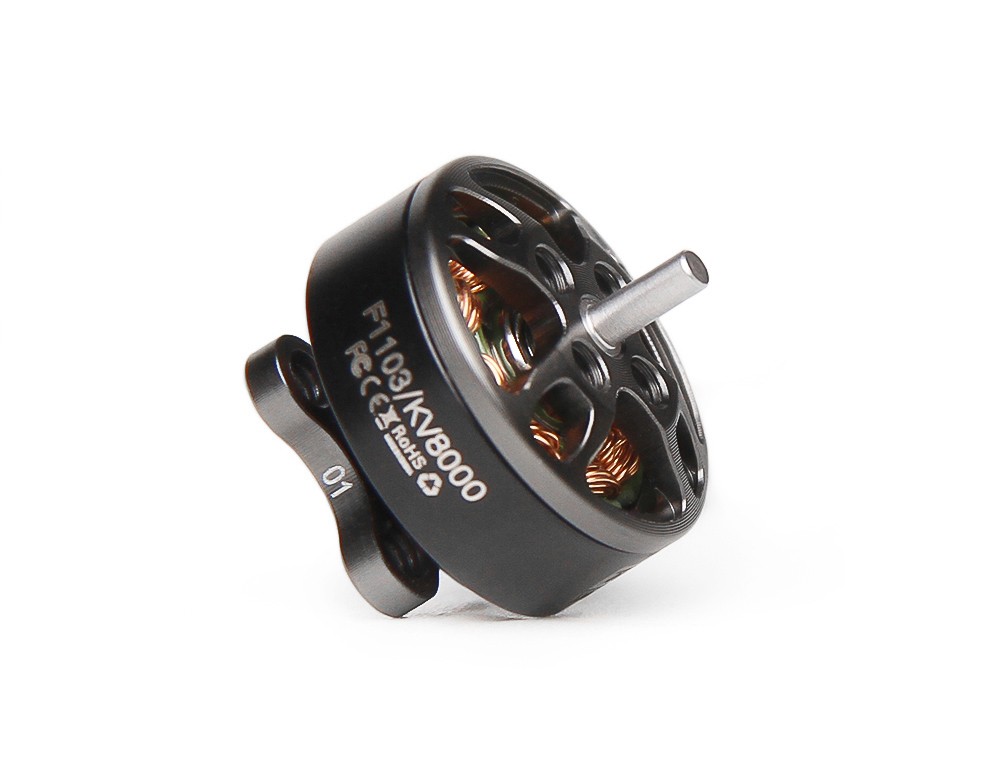 High quality components, expert nothing less from Strom Racing Drones

Built-in BetaFlight OSD
The OSD tells you crucial flight data such as main battery voltage, flight mode and flight time, and it's user configurable.
Installed with a remote controlled battery-warning buzzer!
A remote controlled battery-warning buzzer comes already installed in the drone. This buzzer will alert you when the low voltage threshold (adjustable) has been reached. You can also trigger the buzzer using a switch on the transmitter to help locate the aircraft if you happen to land in tall grass.
Battery and Flight Time Reference (* for reference only)
| | | | | |
| --- | --- | --- | --- | --- |
| Cell | mAh | Discharge | Weight | Norma Flying Flight Time |
| 2S | 400mAH | 50C | 24g | Can't fly |
| 3S | 350mAH | 35C | 28.2g | 2:50 |
| 3S | 400mAH | 50C | 34.1g | 3:20 |
Storm H2 REC Specifications :
All-up-weight : 84.3g
Dimension : 105mm (L) x 130mm (W) x 34mm (H) (w/o battery, with Prop Guard)
Motor to motor : 85mm
Battery : Recommend 3S 350mah or 3S 400mah LiPo (35c or higher) (* sold separately)
RC transmitter : optional
RC receiver : optional
Special tips : To minimize jello effect on camera, we're using a 3mm double side foam tap to secure the camera instead of the original carbon fiber camera plates, by avoiding direct contact with the frame, you'll get smoother recording videos. (* stock camera plates are still included)
This package includes :
1. ☑ Fully Assembled H16 REC
2. ☑ 6pcs CW HQ Prop 1.6X1.6 4-blades (40MM) Propeller
3. ☑ 6pcs CCW HQ Prop 1.6X1.6 4-blades (40MM) Propeller
4. ☑ Battery mat
5. ☑ Storm lipo strap
6. ☑
FREE
1x 8GB Micro SD Card for HD recording (Class 10)
* RC Transmitter sold separately
* Battery sold separately
* Charger sold separately

Helipal Advice...
* This BNF drone has no batteries and charger included, you'll need your own battery, charger and RC transmitter to fly.

* Receiver is optional, the default receiver is a RadioLink R9DS which is compatible for RadioLink AT9 / AT9S transmitter. You can choose to upgrade to a FrSky receiver.

* If you wish to further develop in this hobby, we recommend you purchase the FrSky Taranis X9D Plus RC transmitter, it gives you better compatibility in the future.

* We recommend you get a lot of spare propellers.

* Get some extra batteries

Useful Information :
Payment & Security
Your payment information is processed securely. We do not store credit card details nor have access to your credit card information.