Description
Recording breaking micro size

1.6"

FPV race drone with

HD Recording

and

FPV Camera

onboard!
Storm H16

REC

Storm Spec w/ RunCam Split 4 Camera

Technically it's an "I" beam frame but let's call it "H" frame anyway. =)
Our 2" FPV drone - Storm H2 performs so great indoor, why stop there? Let's try the
1.6"
props! This is
THE
ultimate small FPV drone equipped with the same
RunCam Split 4 HD recording camera
on the Storm H sereis, if you want to perform the stuns like flying thru the house or really tight space, the Storm H16 is the one to go.
H16 frame features :
Smallest FPV frame (1.6")

to use with

RunCam Split 4 HD Recording Camera

Super light setup,

frame weights 13.5g only,

84.3g with electronics on-board (without battery)

(* under 250g drone, no need UAS registration)

2mm carbon fiber unibody frame + 1mm carbon fiber top plate

makes it very durable
Excellent handling, very agile and smooth control
Support 1103~1106 motor mounting
Fly with

3S LiPo
4K recorder on a 1.6" drone
The Storm H16 the smallest 1.6"
 frame to use with RunCam Split 4
, now you can navigate this little bee thru tight space while shooting HD 4K video.
Plastic Propeller Guard
With them you get less stress flying the H16, without the worry of breaking the drone or hurting anyone, when you crash it just pick it up, flip it over and fly again! For experts, you can remove them and save 13.5g, and that will take the drone to another level on handling.
Lightweight is very important!
Less weight means less damage in a crash, flies longer and better handling, all-up-weight (without battery) is just 84.3g.
Carbon fiber unibody frame
2mm thick carbon fiber is super strong, especially for this light aircraft., compatible with
RunCam Split HD Recording Camera (30x30 mounting hole).
Designed by players for players
Clean and tidy H-shape design with lots of good ideas from the proven Loki-X REC series, frame is compatible with RunCam Split, protection for Lens module, motor bumper, bottom plate and upper plate battery mounting, low center of gravity etc.
Fly with 3S LiPo
We tried a lot of motors with different RPM, this 8000kv has great balance on
both Flight time and Performance.
Don't have time to build one?
We build it for you!
We have years of experience in this field and learned a lot of know-how on how to build a good FPV racer, we care about details and expect nothing less from our RTF or BNF aircraft, we also provide different spec built for different experience, each drone is built and tested by Storm factory guys to ensure you'll get a truly world class, out-of-box ready to fly FPV racer. Preloaded with Storm tuned 3 Flight mode + 3 Speed mode, everyone can enjoy, from beginners to experts.
World class FPV racer, ready to fly!
In a hurry to get into the air? We build it for you.
The Storm H16 REC includes our exclusive BetaFlight Parameters!
Pr-loaded with three flight modes and three speeds.
The
Angle Mode
is auto-leveled making is a no-stress flying experience for the complete beginner or for flight training.
In
Horizon Mode
the drone is no longer limited by angle, allowing you to do flip and roll, auto-leveling directly after performing the trick.
In
Rate Mode
, the drone will fly like an airplane with no auto-leveling or angle limitation, making it great for flying around in large spaces.
These flight modes are completely unique to the H16 REC there is nothing else like it on the market.
No compromise!
The H16 REC has the most high-end components on-board, this is surely one of the finest FPV race drone you can get today.
H16 REC Components
T-Motor F1103 Brushless Motor (8000KV)
RunCam Split 4 FPV Camera + HD Recorder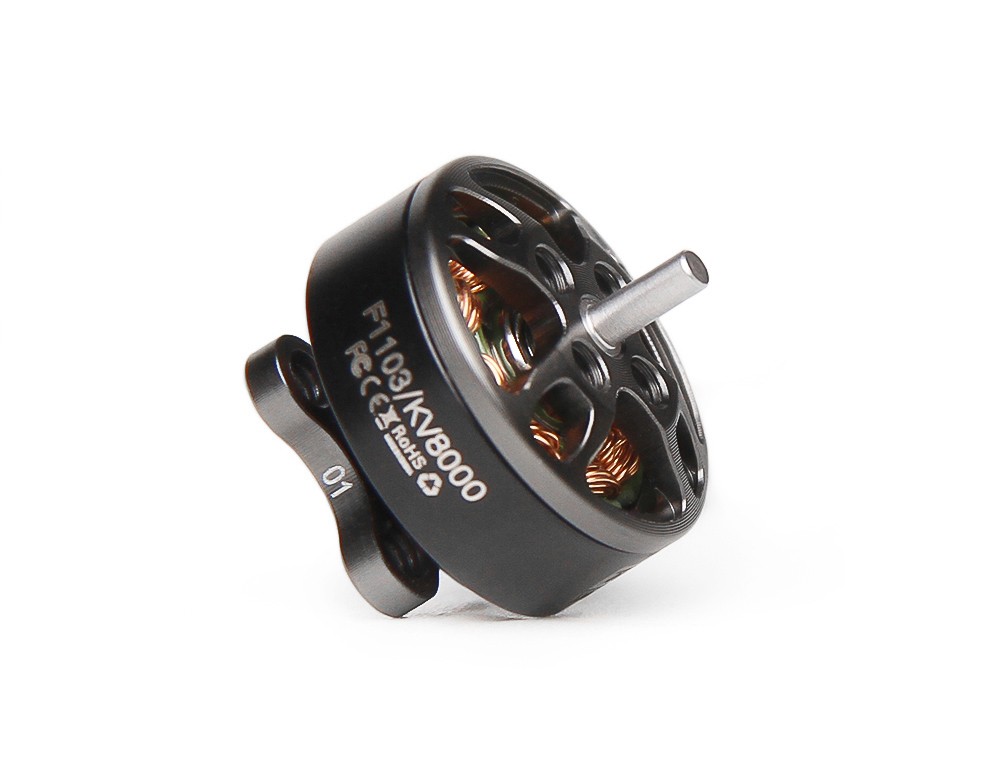 High quality components, expert nothing less from Strom Racing Drones

Storm H2 REC Specifications :
All-up-weight : 84.3g
Dimension : 105mm (L) x 130mm (W) x 34mm (H) (w/o battery, with Prop Guard)
Motor to motor : 85mm
Battery : Recommend 3S 350mah or 3S 400mah LiPo (35c or higher) (* sold separately)
RC transmitter : optional
RC receiver : optional
This package includes :
1. ☑ Fully Assembled H16 REC
2. ☑ 6pcs CW HQ Prop 1.6X1.6 4-blades (40MM) Propeller
3. ☑ 6pcs CCW HQ Prop 1.6X1.6 4-blades (40MM) Propeller
4. ☑ Battery mat
5. ☑ Storm lipo strap
6. ☑
FREE
1x 8GB Micro SD Card for HD recording (Class 10)
* RC Transmitter sold separately
* Battery sold separately
* Charger sold separately

Useful Information :
Payment & Security
Your payment information is processed securely. We do not store credit card details nor have access to your credit card information.